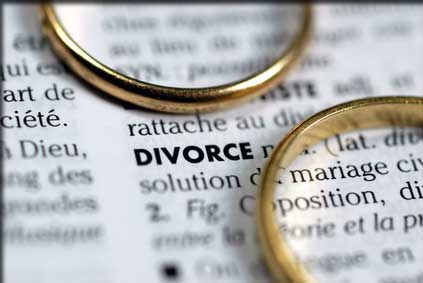 Divorce
In the past, in California, in order for a husband or wife to obtain a divorce, certain grounds for divorce, such as adultery, cruel treatment, or abandonment, had to be proven.
This is no longer the law. California is a "no-fault" state. A person who files for divorce must only allege that irreconcilable differences have arisen. The court does not want to know who is to blame, except where custody of the children is at issue and the circumstances reflect on the parenting abilities. The consent of your spouse is not necessary to obtain a divorce. If you request a divorce, you will get one. In order to start a divorce, a petition is filed in the appropriate court by either spouse. Once the petition and related documents are served on the other spouse, the 6- month period for obtaining a judgment of dissolution starts running. This is the minimum time required to change your legal status from married to unmarried.
During divorce proceedings the court generally makes decision on the following disputes:
chid custody
child visitation
child support
spousal support (alimony)
division of assets and obligations
attorney's fees and costs
If you and your spouse agree on the issues involved in your divorce, the case can be finalized by way of a marital settlement agreement. If no agreement is reached, the case will be scheduled for trial and the court will make the decisions on the disputed issues.
Call Yana Berrier at (530) 674-2258 for a consultation.